Brady Medical Clinic
The Brady Medical Clinic provides healthcare for the entire family. Our healthcare team consists of three physicians, a nurse practitioner and medical staff. We are here to serve our patients through general family practice, preventive care, laboratory work, minor emergencies, and outpatient services.
Brady Medical Clinic Hours
Monday-Friday 8:00 AM - 5:00 PM
Outpatient Services Hours
Monday - Thursday 8:00 AM to 5:00 PM
Closed for Lunch 12:00 PM - 1:00 PM
Friday 8:00 AM to 3:00 PM
Contact
2010 Nine Rd. Brady, TX 76825
Clinic Appointments: 325.597.2114
Outpatient Services: 325.792.3509
Fax: 325.597.2155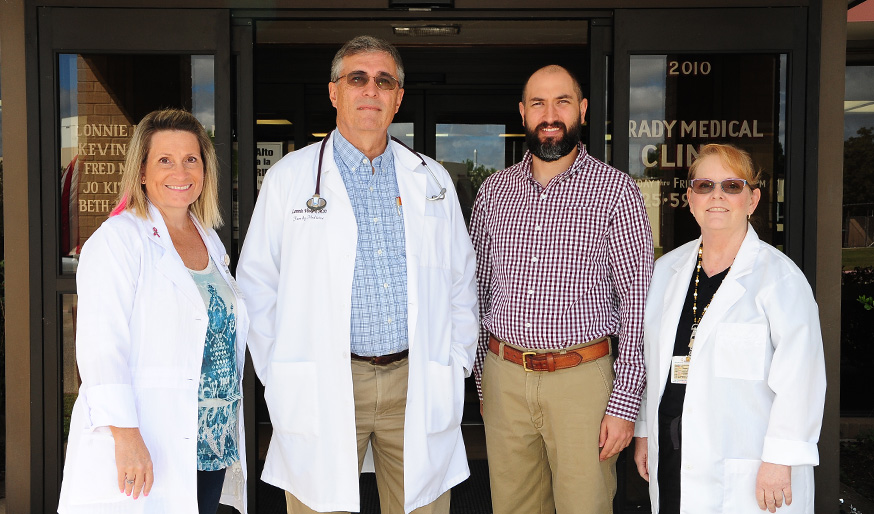 Preventive Care
Newborn and Well-baby visits including Immunizations
Well Child Exams
Preschool and Pre-participation Sports Physicals/exams
Complete Physical Exams
Cancer Screening
Heart Disease Screening
Family Practice
Gynecological Exams
Diabetes
Hypertension
Infectious Disease
Allergic Conditions
Asthma
Laboratory Services
Hematology
Pathology
Urinalysis
Acute Care for Minor Emergencies
Fractures
Lacerations
Sprains
Mole/cyst Removal
Outpatient Services
All outpatient services require an advance written order from your physician.
Coumadin Clinic
Allergy Clinic
IV Therapy
Epogen Clinic
Subcutaneous or Intramuscular Injections
Port-A-Cath Flushes
Blood Transfusions